10% of all sales from will be donated to the Free Black University Fund. In their own words:

'The Free Black University exists to re-distribute knowledge and act as a
space of incubation for the creation of transformative knowledge in the
Black community. We firmly believe education should centre Black people
healing and it should be free, anti-colonial, and accessible to all – so we will provide it.

This project also brings climate justice to the fore as we recognise the relationship between the climate crisis and colonialism. Climate justice will run through all of the threads of our work as we centre structural and holistic approaches to preserving the world we all live in.'

I encourage everyone to read the full description on their page. This is a much needed, revolutionary project. Please donate separately, if possible.


----------------------------------------------------------------------------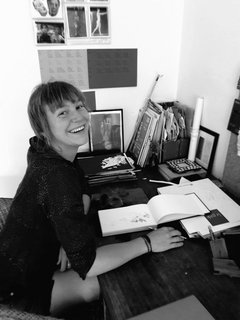 I'm a self taught, British-born artist, interested in the intersection between humans and nature, which we are part of yet often feel detached from. My work is inspired by different types of flora and fauna, but also what happens when we decide to throw ourselves into that mix, rather than remaining separate.

The media I am currently with are cyanotype prints and pencil sketches, though sometimes watercolour and oil. My cyanotype templates are created from a combination of drawings and photography. More information on the process can be found here.

Much of the work shown here was created during the coronavirus lockdown, where the world quickly came to a halt, and our personal worlds suddenly became much smaller. Undoubtedly a difficult and tumultuous time for many, our interactions, smell, touch and feel became restricted. It highlighted humanity's need for these sensations, both with people and nature.

We've become observers of nature, fearful of the unknown, yet equally destructive in our path. Multiple narratives (colonialism, patriarchy, capitalism) perpetuate this relationship, which permeates into the intimate relationships with each other and ourselves. We're taught to be individual, but we're intrinsically social just as multiple animals and plants communicate with one another for sustenance and support. My work questions these toxic relationships that we have with the natural world and ourselves, so that we might be able to conjure new connections, and develop a deeper appreciation and awareness of our place in the living world.

My prints focus on the natural form, whether that be the naked body, flowers, leaves or insects in an attempt to fuse the human and non-human and enjoy different aspects of their beauty and charm.

We are currently sitting at a critical juncture, with the ecological crisis and mass biodiversity loss already affecting millions in the majority world. These are uncomfortable truths that we must acknowledge and address. Our relationship with nature is confused and detached, but I believe there is still the opportunity for change. And often, the change can be positive, nourishing and empowering.

Here's to rewilding ourselves and enjoying it!






© Copyright Annie Randall, 2020. All Rights Reserved.